UNTOLD STORIES
"Untold Stories" is a youth initiative, dedicated to telling the stories of people who have made their home in Barcelona. This platform aims to engage more with people who have inspiring stories to share, thus revealing the richness and diversity of the cultures that meet in this city every day. Through interviewing people from different backgrounds and cultures, we would like to promote a sense of solidarity and intercultural dialogue, at the same time illustrating the fact that we are all different, each of us in our unique way.
About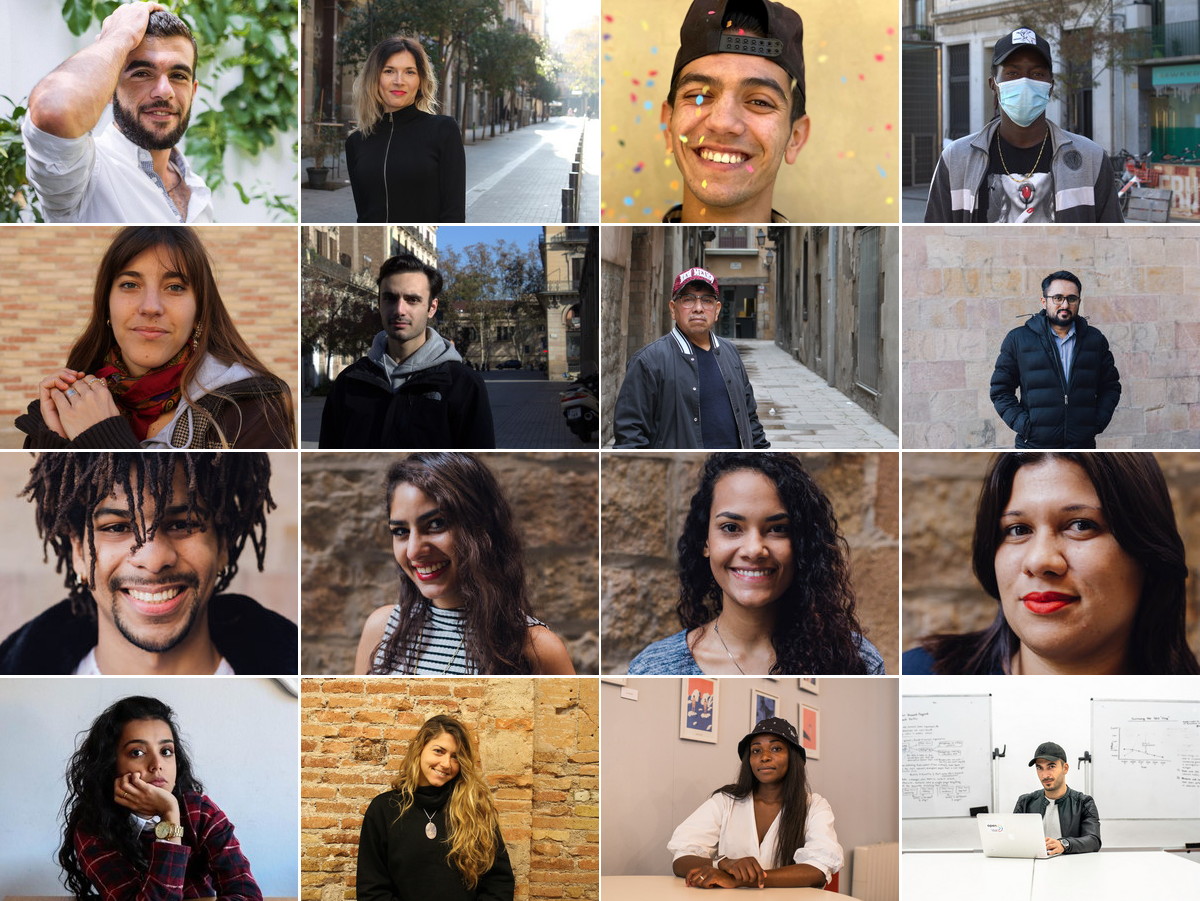 27
Countries
40
People
1
Barcelona
Alexeii
My favourite memory of my home-country was actually in Ukraine, in my grandmother's house. I remember the country-side, a lot of animals: chicken, sheep, goats, etc.
I would also love to have a house by the country-side with some farm animals and my dog as my grandmother did.
Actually I work on the Untold Stories' website, so I will see this story before it is published on the website. My name is Aleksey, I am originally from Russia and I am 40 years old. I went away from Russia more than 10 years ago. The first country I went to was Egypt, I stayed there for 2 to 3 years. The second country I went to was Greece for one year and then I was in Vietnam for 5 years. After all of that, I came to Barcelona in Spain. My girlfriend had a course here, so I came with her and we have been staying here for 2 years.
Read story

Mousa Diop
I want to create a partnership with Senegal, so that I can help the children there. I want them to have better chances in life.
The way I gain a living is through selling my art in the streets of Barcelona.
My name is Moussa Diop, I'm 46 years old, and I'm from Dakar in Senegal. I left Senegal in 2007. Many people leave Africa because the life there is tough – people go in search for a better life. The neighborhood where I was born was not wealthy and had a lot of vulnerable families and economic hardships. I grew up by doing many artisanal and artistic projects with the homeless kids who lived there, so they could have better tools to gain a living in such a difficult situation.
Read story
Sunabh
So, what I think of the future for me to take care of my family, my kids. So that their own future will not be, the way I lived my life. So that they will not suffer, they way I suffered in life
We can be able to afford what we need and take care of ourselves. But if you don't have documents to work. There is nothing you can do. Nobody will take you for work. Nobody will take you for any job. You know?
I am Sunabh. My full name is Sunabh Adray. I am From Nepal and I think I have been living here in Barcelona for three years, since July 2017. My home-country is a very beautiful country. It is obviously a bit poor, but 40% of the population are pretty okay. However, the rest of the population is really poor, so the condition is favourable for the ones who are in a better position and can afford things. They can do anything, they can explore and travel. I have loved travelling since my childhood. So I travelled to many parts of my own country and some parts in India as well. Because India is close and we don't need a visa or anything like that. If you have a car and some bikes, you can go directly. It's like crossing a
Read story

Bruno
I carry within me these sorts of relics of my culture, my city, my neighborhood; often facilitating the mutual understanding with locals & foreigners
Since I've started living here, which was not that long ago, I've discovered that my Sicilian  surname is actually a Catalonian one.
As the city of Barcelona, I am myself an ethnic cocktail. Born in Argentina 27 years ago, with  Croatian-Italian-Galician roots. Since I've started living here, which was not that long ago, I've discovered that my Sicilian  surname is actually a Catalonian one. A trace – probably – from what once was the Aragón  Kingdom. In a way, this idea of 'mixed roots' fades any possible desire of establishing a 'true  origin' for anyone.
Read story

Idriss
We lost our family when I was 6 years old and we stayed in our village without knowing where to go.
I actually never went back to Burkina Faso. My boss treated me really bad here. He didn't pay me and he even took my passport.
My name is Idriss. I don't know my age. I come from Burkina Faso. In my family, I was the little brother and I had an older sister. We lost our family when I was 6 years old and we stayed in our village without knowing where to go. It wasn't very easy because other adults in the village didn't treat us very well. After that, my sister quickly got married  in Ouagadougou. When she got married, it wasn't easy for me, I was very young.
Read story
Open Cultural Center
Improve the life quality and promote the social inclusion of refugees and asylum seekers through education and community activities in transit areas.
Open Cultural Center (OCC), previously known as Idomeni Cultural Center (ICC), is an organization formed by volunteers that carry out both educational and cultural programs with refugees currently living in the camps in Greece.
The OCC was set up in early April 2016 and came from a collective initiative from independent volunteers working in the Idomeni refugee camps. Refugees and international volunteers worked together to give classes and create a safe environment for children as well as adults, where these could continue to learn despite living in the camps.
The ICC also hosted cultural activities and events such as art and music classes, open-mic performances and movie nights. In Idomeni, the Cultural Center quickly turned into a significant resource in the camp, with over 150 children and over 80 adults attending the classes and events.