UNTOLD STORIES
"Untold Stories" is a youth initiative, dedicated to telling the stories of people who have made their home in Barcelona. This platform aims to engage more with people who have inspiring stories to share, thus revealing the richness and diversity of the cultures that meet in this city every day. Through interviewing people from different backgrounds and cultures, we would like to promote a sense of solidarity and intercultural dialogue, at the same time illustrating the fact that we are all different, each of us in our unique way.
About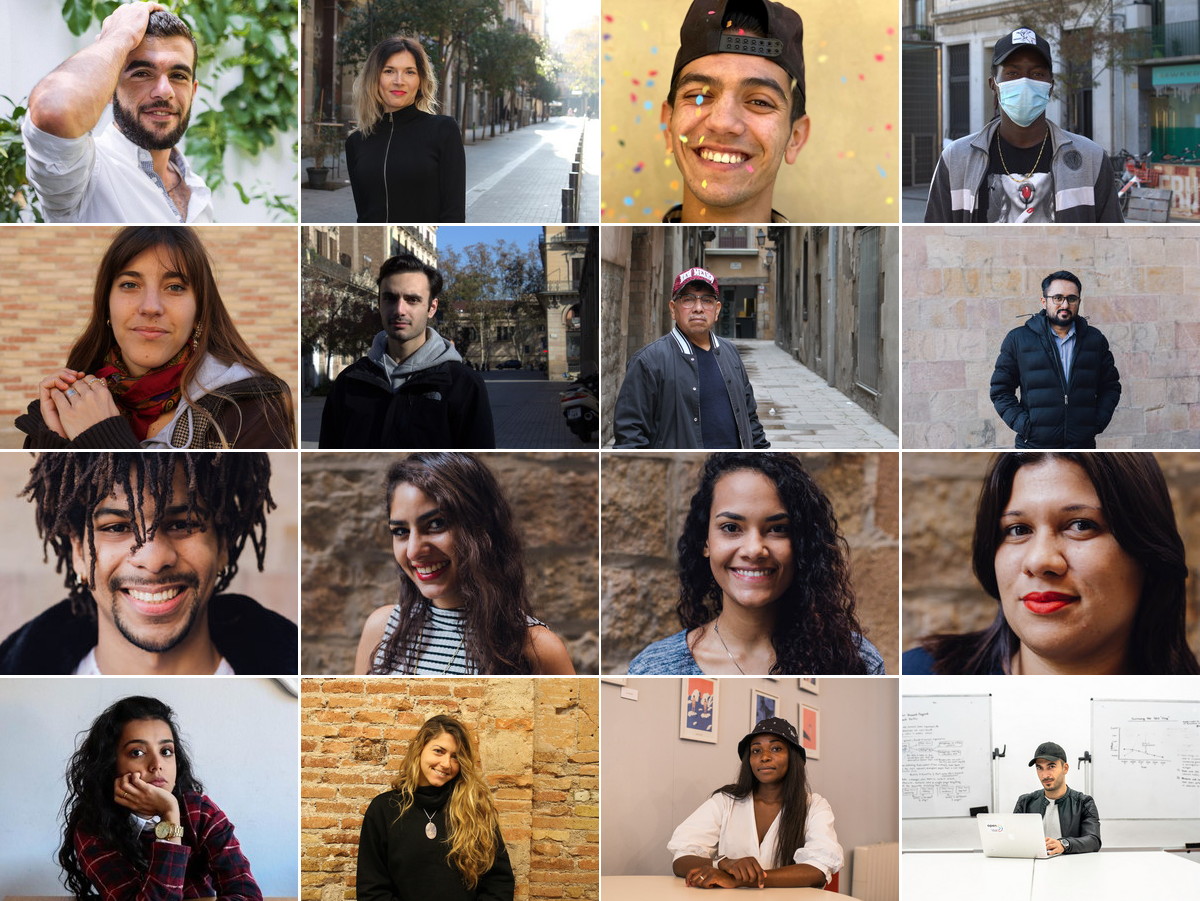 27
Countries
40
People
1
Barcelona

Rosario
in the last two years I spent in Argentina before coming here, I felt paralyzed, I didn't know what I wanted to do, what work to do, I was bored and annoyed, or sad because I wasn't motivated.
So I decided to come here for a change and to begin a new phase of my life.
Before arriving in Spain, I was living in Buenos Aires, Argentina. I was studying Jewellery design and also selling some jewelry to friends and friends of friends. I also sold natural products for a brand and I was being paid for my job at a restaurant that had to close. I was also going to drama and dance classes. I lived with my boyfriend and we broke up when I decided to move to Spain.
Read story

Olivier
Though I also have my own personal goals, which have to do with my self-improvement and starting certain routines.
The best part about living in Spain are the lifestyle, the people, how things work.
It has been a long time since I left my home-country, it has been around four and a half years more or less. The life I had before leaving was pretty stable. I had an apartment that I owned, I was living there with my ex-girlfriend and I was studying and working at the same time.
Read story

Lenka
The first time I left my country was when I decided to leave to study for my bachelor's degree.
In terms of challenges for Spain it has to be the paperwork, it really is a pain in the neck here.
My life before leaving for Spain was quite fine, I was living in Greece for a couple of months and I was just about to start my Master's in England. I had a job and I was looking for a place to live and I knew Spain from earlier, I loved the lifestyle so that's why I decided to come here.
Read story

Mousa Diop
I want to create a partnership with Senegal, so that I can help the children there. I want them to have better chances in life.
The way I gain a living is through selling my art in the streets of Barcelona.
My name is Moussa Diop, I'm 46 years old, and I'm from Dakar in Senegal. I left Senegal in 2007. Many people leave Africa because the life there is tough – people go in search for a better life. The neighborhood where I was born was not wealthy and had a lot of vulnerable families and economic hardships. I grew up by doing many artisanal and artistic projects with the homeless kids who lived there, so they could have better tools to gain a living in such a difficult situation.
Read story
Sunabh
So, what I think of the future for me to take care of my family, my kids. So that their own future will not be, the way I lived my life. So that they will not suffer, they way I suffered in life
We can be able to afford what we need and take care of ourselves. But if you don't have documents to work. There is nothing you can do. Nobody will take you for work. Nobody will take you for any job. You know?
I am Sunabh. My full name is Sunabh Adray. I am From Nepal and I think I have been living here in Barcelona for three years, since July 2017. My home-country is a very beautiful country. It is obviously a bit poor, but 40% of the population are pretty okay. However, the rest of the population is really poor, so the condition is favourable for the ones who are in a better position and can afford things. They can do anything, they can explore and travel. I have loved travelling since my childhood. So I travelled to many parts of my own country and some parts in India as well. Because India is close and we don't need a visa or anything like that. If you have a car and some bikes, you can go directly. It's like crossing a
Read story
Open Cultural Center
Improve the life quality and promote the social inclusion of refugees and asylum seekers through education and community activities in transit areas.
Open Cultural Center (OCC), previously known as Idomeni Cultural Center (ICC), is an organization formed by volunteers that carry out both educational and cultural programs with refugees currently living in the camps in Greece.
The OCC was set up in early April 2016 and came from a collective initiative from independent volunteers working in the Idomeni refugee camps. Refugees and international volunteers worked together to give classes and create a safe environment for children as well as adults, where these could continue to learn despite living in the camps.
The ICC also hosted cultural activities and events such as art and music classes, open-mic performances and movie nights. In Idomeni, the Cultural Center quickly turned into a significant resource in the camp, with over 150 children and over 80 adults attending the classes and events.