UNTOLD STORIES
"Untold Stories" is a youth initiative, dedicated to telling the stories of people who have made their home in Barcelona. This platform aims to engage more with people who have inspiring stories to share, thus revealing the richness and diversity of the cultures that meet in this city every day. Through interviewing people from different backgrounds and cultures, we would like to promote a sense of solidarity and intercultural dialogue, at the same time illustrating the fact that we are all different, each of us in our unique way.
About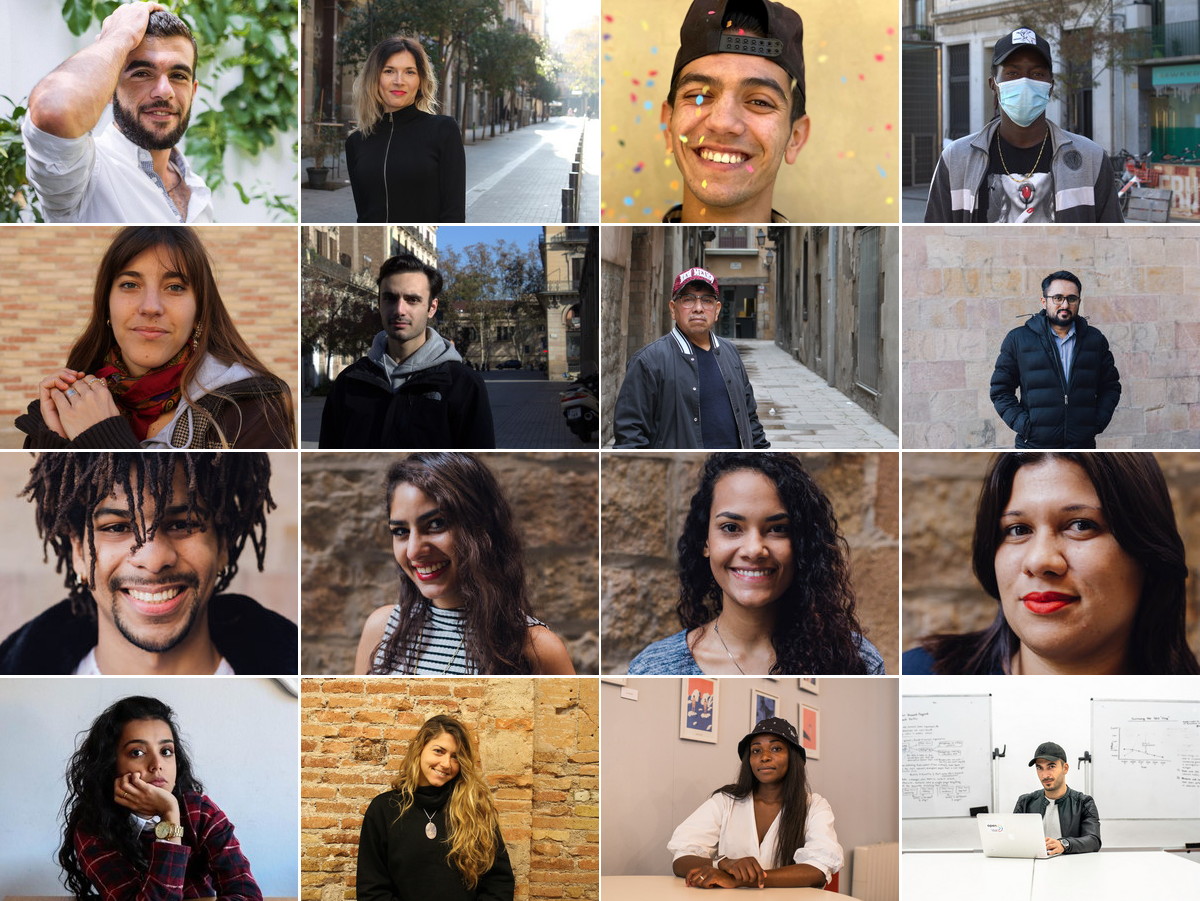 27
Countries
40
People
1
Barcelona

Anna, Chernihiv
" There are a lot of mines in the city, but you can't get out of the city, there are a lot of unexploded shells. "
The morning of February 24 began as usual — I'm sitting in the kitchen in a bathrobe, cooking coffee for myself and my mom, who stayed the night with us. The baby goes to kindergarten by 8 am, the eldest goes to school by the 2nd lesson. And then the siren sounds. We look at each other with horror with mom and can't believe what is happening. After 10 minutes, they wrote to me that children were not accepted to kindergarten, and my mother was informed that the work was canceled — we were attacked, the war.
Read story

Ukraine. Julia, Kiev
" The video shows just explosions. It is unclear who is shooting. Bang! Bang! Bang! Bang! Bang! "
My name is Julia. I'm from Kiev. I don't have a special story, we were just lucky. But I want to write a lot. What's inside. What hurts. It hurts, although, thank God, everything is fine… On the first day of the war, when I feverishly threw my underpants and socks into a bag, my mother-in-law called and asked if I needed caps for rolling. I hung up and asked: "Are you serious now?". "I'm trying somehow to distract myself," she replied after a pause.
Read story

Lesya, Kharkiv/Poland
" I wanted to close my eyes and wake up again "
On February 24, I was woken up by a phone call. I don't remember what I was wearing that morning , I don't remember what I did in the first hours, it was like I was stunned. I wanted to close my eyes and wake up again, so that all this was not real. But the phone in my hands was proving the reality of what was happening by the minute: news channels, dozens of chats with my friends and acquaintances from almost all over the country. Reports of explosions, frightened people. The air became thick and heavy, as it happens when you try to take a breath underwater.
Read story

Anastasia Kharkiv/ Kharkiv region
" "Wake up, they're shooting." "
My name is Anastasia, I'm 22, I'm a future master. On February 24, a guy picked me up with the words: "Wake up, they're shooting." I didn't understand anything, I was terribly sleepy and wanted everyone to fall behind, but I heard the windows ringing from distant explosions, and immediately woke up. We quickly packed clothes into backpacks, stuffed the cat into the carrier. They brewed coffee, tasteless and bitter, got out into the corridor so as not to get hit by shards. The guy's father came to pick us up, and we went to the suburbs. All the way I was sick of frequent stops and excitement, and a stupid pop song was spinning in my head, which I can't listen anymore.
Read story

Sofia, Mariupol/Tbilisi
" It was the middle of March, there were many corpses, graves, destroyed houses, burned cars. "
My name is Sofia, my husband is Kostya. We were teachers at school No. 30 in Mariupol, lived near the Komsomolets cinema. This year was not a good one for us from the very beginning. In January, we got sick with a cold. After leaving the hospital, my husband fell ill with chickenpox. When he recovered, I got sick with covid: I did the first test before the war, I had to do the second on March 2, but there was nowhere else to go. On February 21-22, I managed to buy medicines for myself and get a sick leave. On February 24, we received a call from the school to tell the children to stay at home. So we found out that the war began… On the same day we bought train tickets for March 2.
Read story
If you have power to share your story with as we are waiting for it.
For sure we will do all our best to protect you safety.
Open Cultural Center
Improve the life quality and promote the social inclusion of refugees and asylum seekers through education and community activities in transit areas.
Open Cultural Center (OCC), previously known as Idomeni Cultural Center (ICC), is an organization formed by volunteers that carry out both educational and cultural programs with refugees currently living in the camps in Greece.
The OCC was set up in early April 2016 and came from a collective initiative from independent volunteers working in the Idomeni refugee camps. Refugees and international volunteers worked together to give classes and create a safe environment for children as well as adults, where these could continue to learn despite living in the camps.
The ICC also hosted cultural activities and events such as art and music classes, open-mic performances and movie nights. In Idomeni, the Cultural Center quickly turned into a significant resource in the camp, with over 150 children and over 80 adults attending the classes and events.